Investment in the potential Vietnam market is a strategic action of INOAC Corporation's development plan in the foaming industry. With the introduction of high-end mattresses in recent years, INOAC Corporation is realizing its ambition to lead the PU Foam mattress segment in Vietnam.
Building the Japan-quality foundation
As the 15th most populous country in the world and the third in Southeast Asia with more than 96.2 million people, Vietnam is a potential investment destination for many manufacturing groups in the field of consumer goods and home furniture.
According to the research by Mekong Capital Investment Fund, the number of the population using mattresses in Vietnam accounts for about 30% while that in developed countries has reached nearly 100%. Therefore, the Vietnam mattress market with its value of approximately US$ 1 billion is considered the most potential in Southeast Asia for domestic and foreign brands including INOAC Corporation.
Japan INOAC Corporation has been known as a pioneer leading in the foaming industry in Asia since 1954. With over 100 factories and R&D centers worldwide, INOAC Corporation has researched and developed more than 300 different PU Foam types widely applied from industries to consumer goods.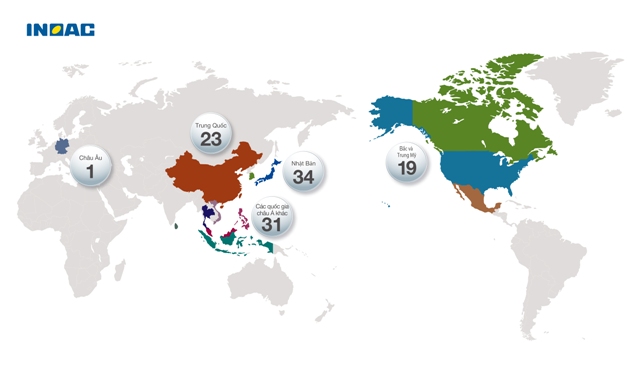 Having extensive experience in the accuracy manufacturing and raw materials industry, the R&D professionals have researched and developed suitable PU Foam applying in the production of mattresses and other bedding accessories for tropical Vietnam.
Manufactured in ISO 14001: 2015 certified factories with the cutting-edge technology, INOAC's PU Foam must go through an inspection process to comply with the Corporation's standards and the prestigious organizations before mass production. INOAC's PU Foam meets Japan Industrial Standard on durability, OEKO-TEX's safety standards for infants and children under 36 months old and Japanese safety standards for direct food contact packaging. As a long-standing corporation, INOAC Corporation gradually realizes the commitment of quality in each mattress to Vietnamese consumers.
Strategy to become the leading mattress brand
Investment in the potential Vietnam market is a strategic move in the long-term development plan of INOAC Corporation. With two brands Aeroflow and Oyasumi launched respectively in 2016 and 2018, INOAC has affirmed its position in Vietnam with Japan-quality mattresses.
Mr. Shigeki Yamada, General Director of INOAC Vietnam shared that in the next 5 years, INOAC Corporation would focus on R&D investment to become the leading PU Foam mattress manufacturer in Vietnam and then Southeast Asia.
With continuous efforts during the past 3 years, INOAC Corporation has been bringing innovations of sleep care around the world closer to Vietnamese consumers. As the prolonged experience in industrial manufacturing is one of the INOAC's advantages, 100% of the mattress products are manufactured and inspected according to the industry standards.
Every strategic move INOAC Corporation follows the consumer-centric principle. Finding and solving the consumers' existing issues, INOAC Corporation has been constantly investing technically and creatively to improve product quality to protect consumers' health just from sleep. This is also a strategy that Japanese mattress manufacturers have stepped up to realize the goal of becoming the leading PU Foam mattress manufacturer in Vietnam.
It is known that Japan INOAC Group has been a pioneer leading in the foaming industry of PU Foam production in Asia since 1954. INOAC Living is one of Japan's INOAC Corporation industries focusing on developing bedding products.
---
Source: http://vneconomy.vn/thuong-hieu-nem-nhat-ban-voi-tham-vong-dan-dau-thi-truong-viet-nam-20191218160525325.htm
---