Following the trend of using PU Foam mattresses in Western countries and Japan, INOAC Corporation has brought high-quality mattresses to Vietnamese consumers. Let's get to know about the PU Foam mattress and four basic principles applied in mattress production at INOAC Corporation.
History of mattress production at INOAC Corporation
As the pioneer in the foaming industry in Asia, INOAC Corporation has put the continuous effort in PU Foam research and development and its application in various fields in life. As an effort to life improvement, INOAC Corporation has developed more than 300 different PU Foam types.
INOAC had commenced producing PU Foam since 1955 and applied PU Foam in interior parts for automotive and mattress production since 1959. In the Vietnam market, INOAC Corporation has developed two brands specified Aeroflow and Oyasumi, respectively in 2016 and 2018.
Aeroflow mattress types, which use the exclusively invented Mixel Cube in mattress structures, promote the airflow suitable for Vietnam weather. As the next development of the Color Foam brand in Japan, the OYASUMI mattress is popular all over Japan and trusted by lots of customers with more than 4 million mattresses sold out.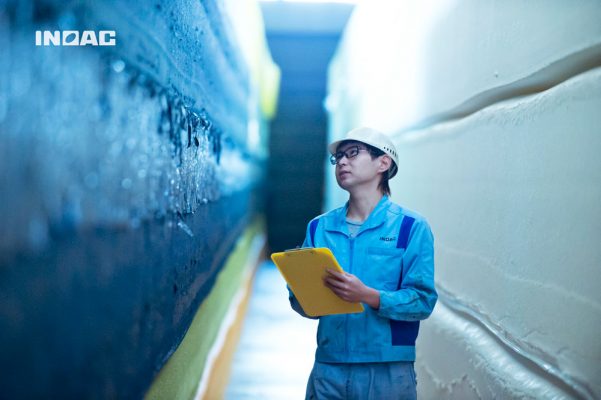 4 basic principles INOAC applied in mattress research and development 
Besides a profound understanding of PU Foam, INOAC Corporation has successfully applied 4 basic principles in mattress production to meet Vietnam's market preferences.
Principle 1: Safe PU Foam
For Japanese people, safety is the first must-have criterion for daily consumer products, so the first rule when manufacturing mattresses at INOAC is that PU Foam must be safe. A mattress floating on the market might be produced of cheap and low-quality material, which can cause skin or respiratory problems after a period of use. The INOAC Corporation's PU Foam is hypoallergenic, formaldehyde-free, and so safe that it can be used as a direct food packaging material (according to Japanese food safety standards).
Besides that, PU Foam inside the mattress meet the human-ecological requirements of the STANDARD 100 by OEKO-TEX presently established in Appendix 6 for baby and children up to 36 months. OKEO-TEX STANDARD 100 by OEKO-TEX® is one of the world's best-known labels for textiles tested for harmful substances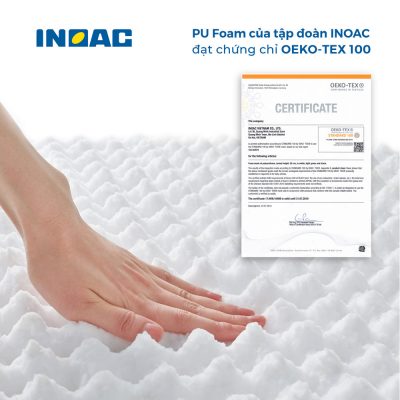 Principle 2: Even pressure dispersion
The "Human Engineering in daily life" research by Professor Jiro Ohara of Kyoto University shows that the back and hips are subjected to 33% and 44% of the body pressure respectively when lying down. Based on the research, INOAC has developed mattresses based on the principle of uniform pressure dispersion to reduce the pressure on the back and hips, thereby helping to prevent fatigue and hurts.
A good mattress must have the ability of giving optimal body support. The pressure test shows that the body parts in red suffer a higher pressure, compared to others in blue. The INOAC's mattresses can give equal pressure dispersion with the chart showing a few red parts, and blue color spread on the whole body.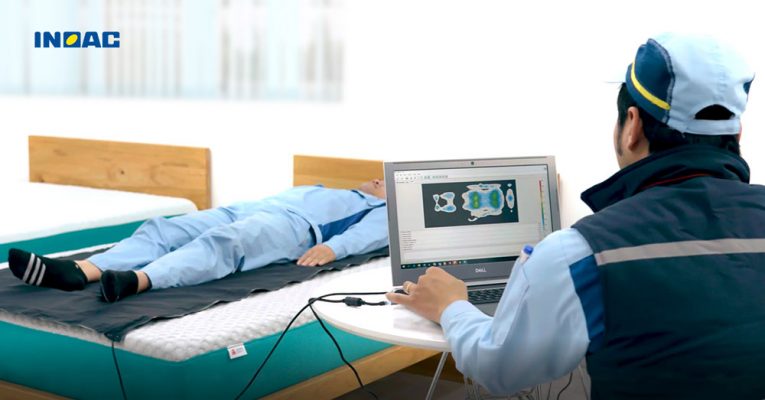 Principle 3: High durability
           Mattresses are slow-moving consumer goods that should be replaced after every 5-7 years of use. Therefore, mattress products require high durability, at least during the warranty period. Meeting the Japan Industrial Standards (JIS), after 80,000 times of continuous compression and release at a compression rate of 50%, PU Foam in the mattress core has a recovery rate of up to 98%. In another word, the mattress thickness almost remains unchanged after that durability test. Aeroflow and Oyasumi mattresses sold to the Vietnam market have a warranty period of 7-10 years.
Principle 4: High ventilation
The climate in Vietnam is hot and humid, creating a favorable environment for mold and bacteria growth. Therefore, the types of PU Foam used in the mattress core are of superior air permeability, promoting the air and water ventilation. In addition to the choice of breathable PU Foam, the profile-cutting structure is applied to numerous product lines, with the aim of ventilation increase, body support by point, and blood circulation.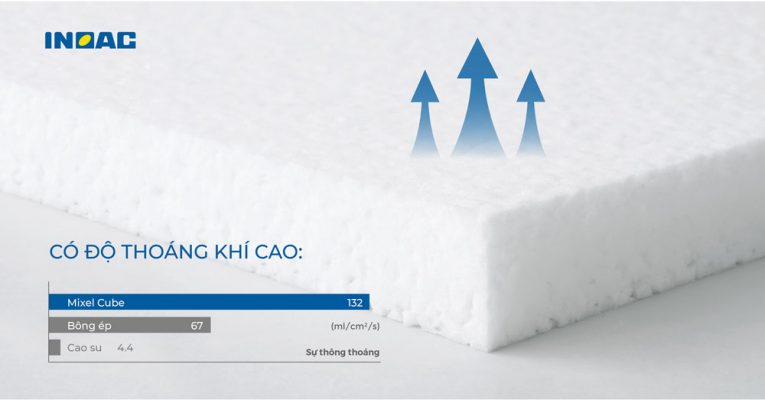 Besides the four principles above, each product has its features suitable for various consumers' preferences and hobbies. So, try on INOAC's mattress and choose the right one to accompany you during hundreds of periods of good night's sleep.
---