The bedroom is oneself's resting place, where each of us can relax and enjoy our personal space. Therefore, you should pay attention to its decoration and design in order to bring the most comfortable feelings every time you spend time there. You should be able to forget about all problems when being at this personal oasis!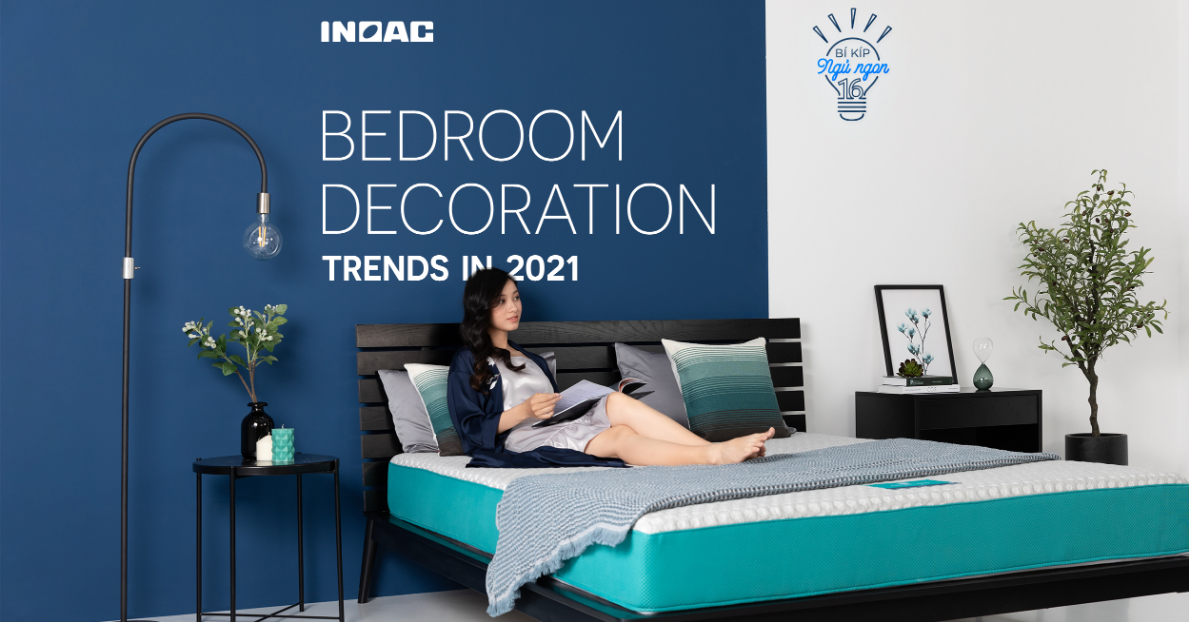 In this article, INOAC will bring you pictures and many ideas for decorating your bedroom, in order to meet all of your preferences and needs. They are also the current design trends that will help to come up with options for different tastes. 
Colors
In recent years, beige, cream and white are the most popular colors used for bedrooms as they deliver calm and external classics. Colors such as dark brown and black are normally avoided since they might discomfort many people and their sleep. In 2021, grey is predicted to be the most common color used in the bedroom, especially when it is combined with white.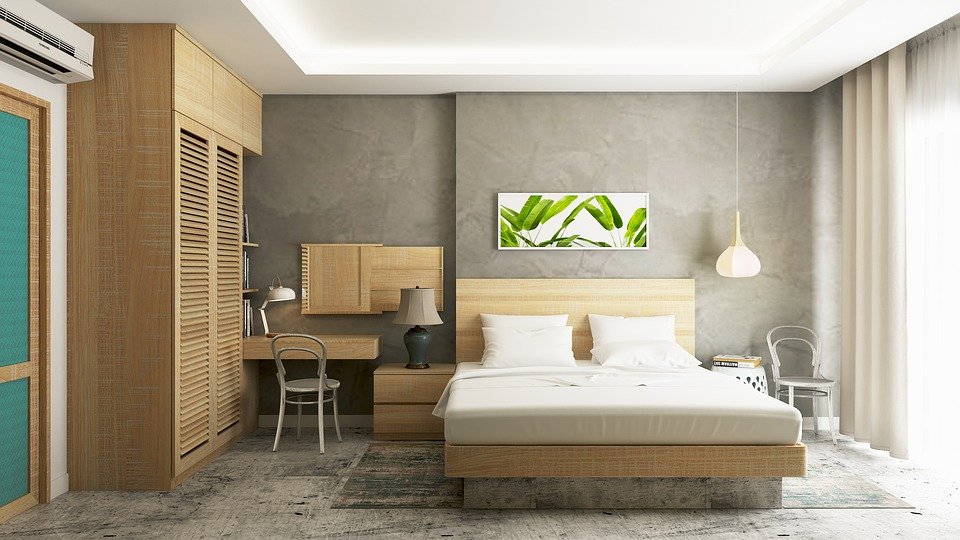 Photo: Pixabay
Also, a dark grey is very attractive sometimes when it goes with colors like dark brown, dark blue and woody colors. And you might notice that dark rooms do not have to be in bad taste. It even makes the space with your partner become more personal and sexier. 
Another trendy color for the bedroom this year is black and white. This combination is very powerful when you try to archive a modern bedroom. You might want to use dark green color furniture as well, in order to make an appearance!
Overall, using bright colors for the bedroom will bring you a relaxing and calm atmosphere, favoring your rest and sleep. Our recommendation is that you should use touches of vibrant color in small details like quilt or cushions. One of the trends this year is to paint only one of the room's walls and keep the remaining pale neutral or white.
Natural and environmentally-friendly materials
We hear about and talk about the environment, climate change, etc. everywhere and every time in recent years. And the use of natural and environmentally friendly materials is growing strongly. For instance, many people are using pressure treated wood or brick for their house as a respect for nature. They not only help to conserve nature but also bring an interesting rustic effect to your bedroom. Using suitable plants to decorate the bedroom is also becoming more and more popular these days since it brings a better atmosphere to the room.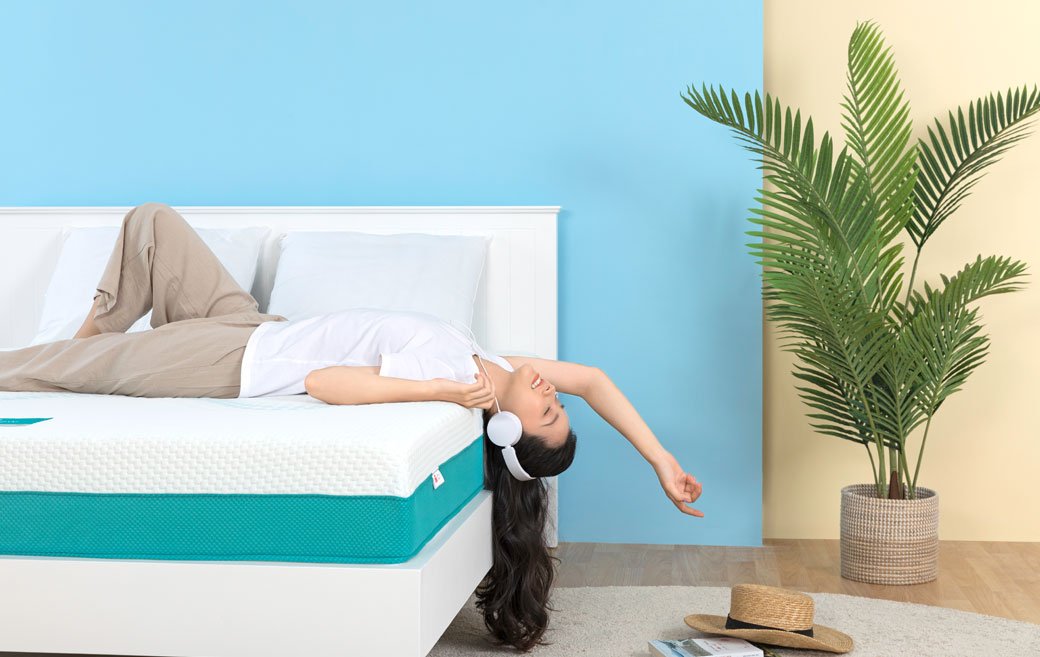 Photo: Aeroflow
Upholstered headboards
Here comes another trend that is predicted to generate great force in 2021. Headboards made of wood will be left aside to give way to upholstered and fluffy backrests.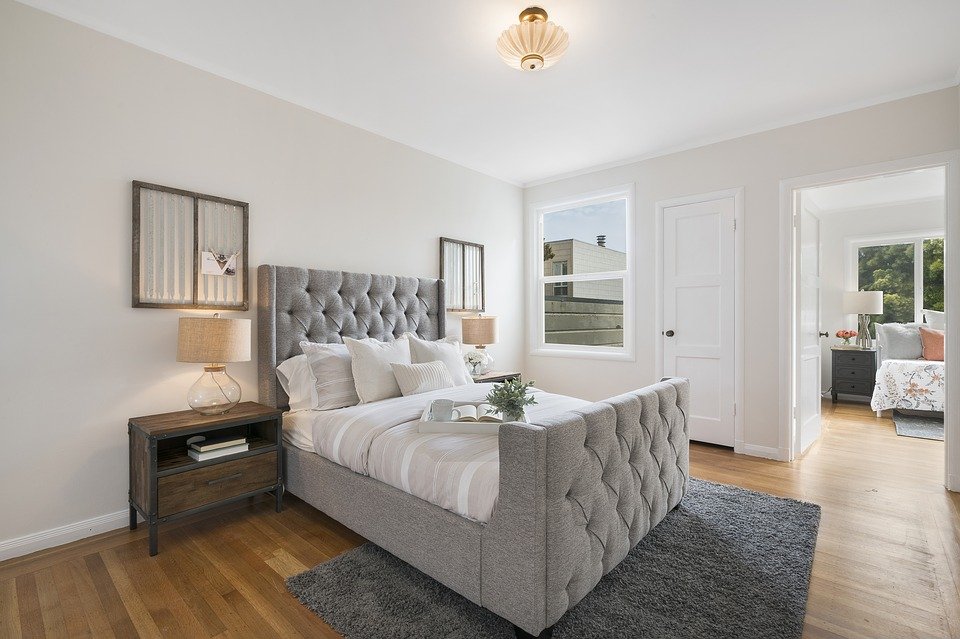 Photo: Pixabay
Decorate the walls behind the bed
The wall behind the bed is normally the most important one in any bedroom as it can be a decorative accent. We will bring you some trendy decorating ideas that present a creative solution to add style, interest and fun to your personal oasis.
Use decorative wall paper to add style to your bedroom's walls

Paint the wall behind the bed with different colors; or paint it with dark color and leave the others with neutral colors

Consider to paint cartoons or cute pattern for the wall in your kids' bedroom

Draw your headboards with patterns and more than one colors can also be a creative idea
Terracotta floors
Terracotta floors are not a new idea but it is still predicted to grow in 2021. They create a more rustic appearance as they are not shiny or polished but opaque.
We hope that you will find our suggestions and tips of the newest decorating trends in 2021 for bedroom useful. Since the bedroom is a very important space, you should pay attention to its design and decoration. The better designed and decorated your bedroom is, the more you will enjoy it every time you stay in your bedroom!
Source: Newdecortrends
---