INOAC Vietnam participated Vietnam International Furniture and Home Accessories Fair (VIFA-EXPO) 2019 from 6 to 9 March 2019, at the Saigon Exhibition and the South East Asia (SECC), District 7, Ho Chi Minh City.
VIFA-EXPO 2019 is the largest furniture fair in Vietnam and one of the leading furniture fair in ASEAN. It is also the meeting points for all international furniture manufacturers and buyers, as well as the launcher for Vietnamese furniture manufacturers to promote products into the World. VIFA-EXPO this year attracted about 600 exhibitors with 2,420 booths.
This is the first time INOAC Vietnam attend VIFA 2019 with areas to display materials, consuming goods including: PRIDE & bed-in-the-box, Atease furniture, AIRDRY, and PU Foam. Just in four days, INOAC booth welcomed millions of visits from partners and individual customers.
PRIDE & bed-in-the-box are two mattresses displayed during the event. Introduced for the first time in the Vietnam market, AEROFLOW PRIDE is the global flagship model. Jointly researched with a Japanese University, INOAC Corporation develop PRIDE to increase deeper sleep ratio by reducing body strain when roll over.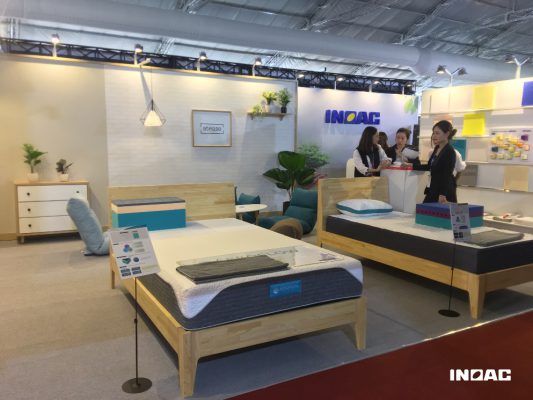 Aeroflow PRIDE – Global flagship model
Bed-in-the-box is now becoming one of the bedding trends in the worlds thanks to its convenience in transportation, and compactness in storage. FORMAT is the mattress that INOAC developed following the trend. FORMAT has 23 air holes in the second PU Foam layer, to increase breathability and body pressure dispersibility.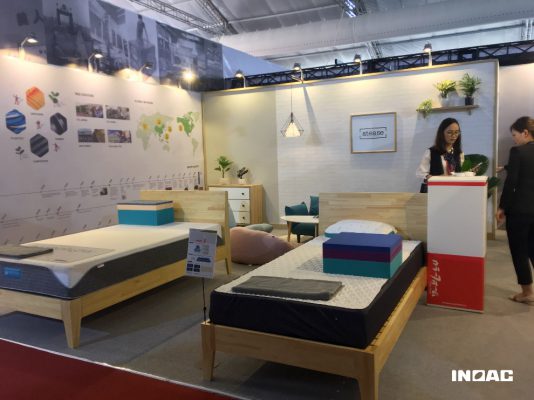 FORMAT – the bed-in-the-box
With the desire of providing a better and more comfortable life, INOAC Corporation has developed the Atease furniture brand whose concept is 'AT EASE'. Atease brand has a wide range of compact but multi-use furniture products. Atease display area at the VIFA EXPO 2019 is the simulation of small, modern living room. Atease display area at VIFA EXPO 2019 is the simulation of a small, modern but cozy living room in a minimal Japanese style.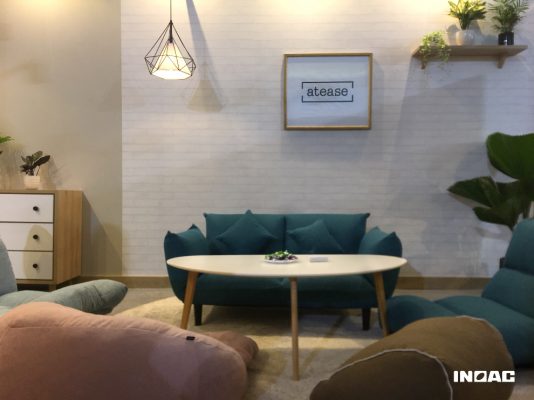 AIRDRY is the brand of filter foam which have been applied for exterior products in luxurious resorts in Vietnam and some Asian countries. With the open-cell structure, AIRDRY has the following characteristics including mildew-resistance, high drainage, and high durability.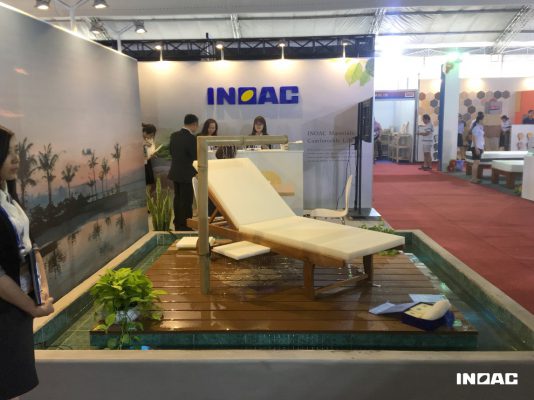 AIR DRY is the brand of filter foam suitable for exterior products
About 40 types of PU Foam of INOAC were also displayed at the event. PU Foam is artificial materials with high durability, customized firmness, elasticity and breathability suitable for specific applications.
All products and materials displayed at VIFA-EXPO 2019 were all researched and developed by professional R&D department. With the strength of Japan-quality technology and materials, INOAC offers customers products with strict quality standards like industrial applications. Participating VIFA EXPO this year is one of the activities that helps INOAC bring high-quality consuming goods and materials closer to Vietnamese partners and consumers.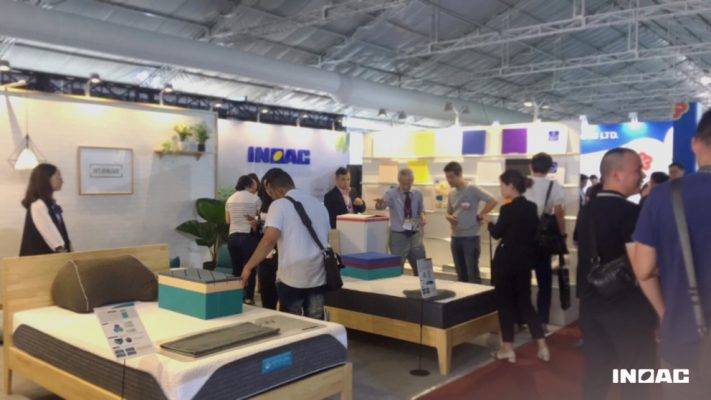 VIFA-EXPO partners and customers experienced the products, and learned about materials at the event.
If any business inquiry, please contact us via hotline: 1800 1569 (or) email: contact@inoacliving. vn
---