INOAC set up the 6th subsidiary company in Vietnam
In November 2016, INOAC Living Vietnam was officially established in Vietnam as the 6thsubsidiary company of INOAC Group. INOAC Living Vietnam operates in the field of developing and selling bedding products including mattress and pillow; and furniture.
INOAC CORPORATION is the Japanese leading company of polymer chemistry, who introduced polyurethane foaming technology for the first time in Asia.
Established in 1997, the first subsidiary company of INOAC group in Vietnam is Inoue Rubber Vietnam Co. Ltd, with main products being motorcycle tires. For 20 years of producing high-quality products branded IRC, Inoue Rubber Vietnam has become one of the most reliable Japanese brands in Vietnam market.
In 2005, INOAC VIETNAM started operation and has produced many kinds of products from polyurethane foam and rubber applied for printer, automotive, motorcycle.
INOAC continues to promote investment in manufacturing in Vietnam. INOAC POLYMER VIETNAM in Ho Chi Minh City, TOYOTA BOSYOKU INOAC VIETNAM in Hanoi, INOAC INDUSTRIAL PRODUCT in Vinh Phuc was established respectively in 2014, 2015, and 2015.
In 2016, INOAC VIETNAM invested PU foaming factory to produce the highest quality PU foam material in Vietnam.
In November 2016, INOAC established INOAC LIVING VIETNAM as the first trading company to keep up with the consuming trends in Vietnam market. With the various kinds Japan-quality bedding products, INOAC LIVING VIETNAM will promisingly bring about better life quality to Vietnamese consumers.
AEROFLOW, which is the INOAC's global strategic bedding brand, is the first brand introduced in Vietnam market. Being produced with the state-of-the-art technology of foaming, AEROFLOW provides comfortable feelings and high performance to let people enjoy good night's sleeps.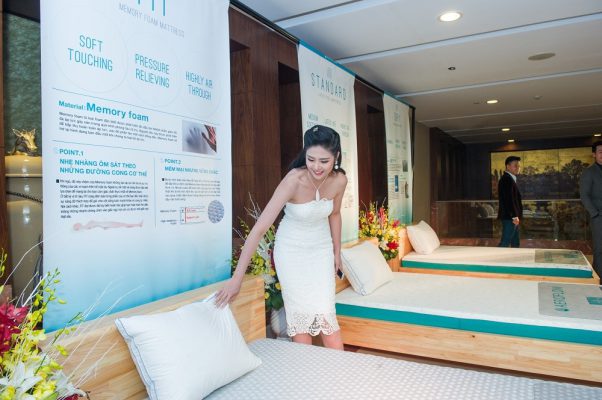 INOAC LIVING VIETNAM CO.,LTD based in the third floor, Hoa Binh International towers, 106 Hoang Quoc Viet street, Ha Noi. INOAC LIVING VIETNAM displays the newest products of INOAC particularly for Vietnamese market.
---